Back
Indian food: Five dishes you have to try!
---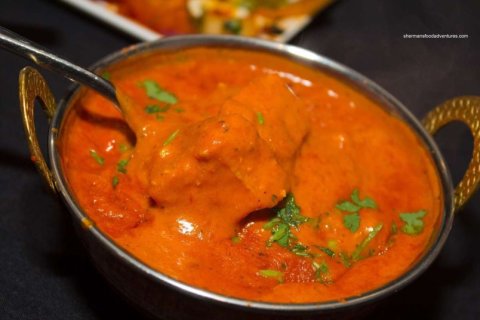 CM Bhatt of Aroma Indian Restaurant and Lounge in Port Moody has been serving award-winning Indian cuisine to the people of the Lower Mainland for years. So he knows that you need a wide variety of spices, flavours and meats to satisfy local taste buds.
"A common misconception is that all Indian foods are spicy," says Bhatt. "But here at Aroma Indian Restaurant and Lounge, we put that notion to rest pretty quickly. We have something for every taste, no matter how mild. In fact, there are lots of Indian dishes for people who don't typically eat spicy food."
Here are five delicious suggestions Bhatt says everyone can and should try:
1. Butter Chicken: This 'classic' Indian dish is one of the safer bets if you are new to Indian restaurants says Bhatt.
"The sauce is nice and creamy with tomatoes and cardamom making it very flavourful," he says. "It's mild too so it's very kid-friendly – it gets along with a lot of people!"
2. Reshami Kabab: This Indian food is a great choice for the more health-conscious customer.
"It's a light meal that's ideal for people who are very active," Bhatt says. "The chicken is a nice source of protein, as well, and we marinate it in a creamy yogurt and garlic sauce then cook it in a tandoori clay oven, it is served with a salad. For many other meals, you'll likely want to add rice or bread. But Reshami Kabab can stand alone."
3. Aloo Gobhi: Bhatt says the simplicity of this dish- based on potatoes and cauliflower- is what attracts people most.
"It can be served vegan-friendly and it's not very saucey, nor spicy so the flavours aren't overwhelming," Bhatt points out. "And a dish of rice or tandoori bread as a nice complement."
4. Vegetable Manchurian: One of Aroma Indian Restaurant and Lounge's highest-selling appetizers on the menu, even for people who don't typically reach for the vegetables.
"For people who are not veggie-lovers this is a great dish," says Bhatt. "The vegetables are finely chopped up and formed into balls, then deep fried and then sautéed with onion, ginger, garlic bell peppers and some Indian spices."
By: Tri-City News
GuidedBy is a community builder and part of the Glacier Media news network. This article originally appeared on a Glacier Media publication.
Guided By
Location
Topics