Back
Poll on Canadian food tastes is packed with regional flavour
---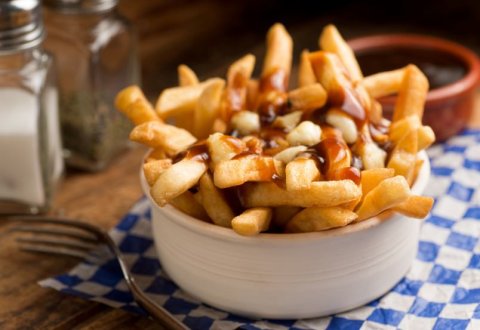 One of the features of social media that users have grown to either love or hate is the discussion of food. Some people welcome the opportunity to learn from the experience of their friends and family at restaurants. Others can get tired of endless pictures of dinner plates or step-by-step recipe live-blogging from a kitchen.
Last month, my colleague Bob Kronbauer from Vancouver is Awesome registered his displeasure with poutinein a tweet. I am compelled to announce that Bob is in a tiny minority. Almost four in five Canadians who took a recent Research Co. poll (79%) said they would "definitely" or "probably" eat poutine, including 84% of Quebecers and 87% of those aged 35 to 54.
Politicians, like all humans, have a chance to discuss what they would eat and what they would refuse, even before social media. In 1990, U.S. President George H. W. Bush famously got in trouble for declaring that he would never eat broccoli again.
In 2017, the president of Iceland, Gudni Johannesson, curiously threatened to ban pineapple as a pizza topping in his country. The ensuing social media firestorm from Canadians, who remembered that "Hawaiian pizza" was created in Ontario and not Oahu, included a defence of the delicacy from Justin Trudeau himself. Still, many social media users also made it clear that they would not eat a pizza with pineapple.
When we asked a representative sample, two-thirds of Canadians (66%) said they would "definitely" or "probably" eat pizza with pineapple. The highest proportion of "Hawaiian pizza" lovers resides in British Columbia (76%) and the lowest in Quebec (57%).
There was another moment in 2017 when the realms of food and politics collided. The Washington Post reported that the first meal of Donald Trump as president in a District of Columbia restaurant was a well-done steak with ketchup.
Canadians reacted to this way of enjoying beef with an even split: 48% said they would eat a steak with ketchup, and 48% said they would not.
There is a noteworthy gender gap with this dish. While only 41% of Canadian women would eat steak with ketchup, more than half of Canadian men (54%) would do so.
We also looked at a few more "adventurous" offerings. Only 18% of Canadians would eat cod tongues, a proportion that jumps to 39% in Atlantic Canada, where the dish was perfected. A similar situation ensues with scrunchions – bite-size salted and fried pieces of pork rinds and fat – with 16% of Canadians (and 29% of Atlantic Canadians) saying they would try them. Still, a sizable number of respondents across the country (44%) were simply not sure.
As we leave the Maritimes and enter Western Canada, two controversial dishes yielded similar findings.
Prairie Oysters – deep-fried flour-coated bull testicles – are an item that only 26% of Canadians are willing to eat. The surprise here is that this particular delicacy is more popular in Quebec (32%) than in Manitoba and Saskatchewan (25%) and Alberta (15%).
Canadians were also asked about shark fin soup, and the dish was accepted by only one-in-five (20%) and rejected by almost three quarters (73%). Earlier this year, Canada moved to ban the import and sale of shark fins. Federal Fisheries Minister Jonathan Wilkinson referred to the practice of shark finning as "unquestionably destructive." In any event, 51% of respondents of East Asian descent would still enjoy shark fin soup if they had the opportunity, compared to just 29% of South Asians and 17% of Europeans.
Finally, we looked at the most recent addition to Canada's culinary delights: the plant-based hamburger patty that has made its way to many restaurants, including White Spot, A&W and Tim Hortons.
Three in five Canadians (60%) say they would eat a plant-based hamburger patty. The acceptance of this dish drops with age, from 67% among those 18 to 34, to 62% for those 35 to 54 and to 52% among those 55 and over.
There are more potential devourers of plant-based hamburger patties in British Columbia (63%), Atlantic Canada (62%) and Ontario (also 62%). The lowest incidence is reported in Alberta (55%). Time will tell if the plant-based hamburger patty has staying power in British Columbia, or joins fish tacos and bone marrow as offerings that were ubiquitous for a while and were later forgotten.
Mario Canseco is president of Research Co.
Results are based on an online study conducted July 15–17, 2019, among 1,000 adults in Canada. The data has been statistically weighted according to Canadian census figures for age, gender and region in Canada. The margin of error, which measures sample variability, is plus or minus 3.1 percentage points, 19 times out of 20.
By: Vancouver Courier
GuidedBy is a community builder and part of the Glacier Media news network. This article originally appeared on a Glacier Media publication.
Guided By
Location
Topics