Back
The Hot Seat With Chef J.C. Poirier
---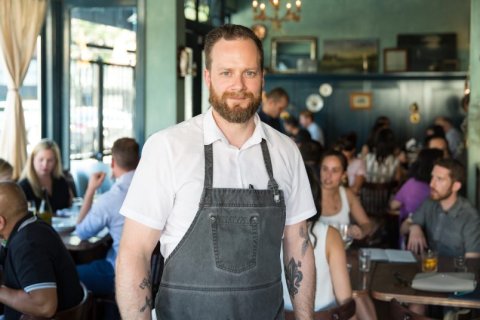 Hailing from Quebec, where he started his career at Montreal's renown Toqué!, J.C. Poirier is changing the face of Vancouver's dining scene by opening the city's first high-end Quebecois restaurant, the critically acclaimed St. Lawrence. Here, what makes the talented chef tick.
1. What made you decide to become a chef?
My love for food came at an early age. I love to eat more than anything else, so it was mandatory that I learn how to cook. I'm a cook first; "Chef" is a title. I do what I do because I love to cook.
2. How do you describe your style of cooking?
My style is very French. I navigate between the old-school French cuisine and my Québécois roots. (The result is something) that resembles "haute country cooking."
3. What is the key to a good winter menu in Vancouver?
Richer food, sauces, the use of butter and maybe cream. People ask me why the food is so good at St. Lawrence, (and) I answer simply: Because I'm not afraid of fat. Also, Vancouverites love their fried Brussel sprouts—put that on the menu and you make a killing.
4. What is the most comforting dish on St. Lawrence's menu?
Probably the 'Tourtière de ville', which is a venison meat pie served with a rich sauce and pickled condiments.
5. Underrated winter ingredient?
Jerusalem artichokes, also called sunchokes. They are delicious roasted, pureed into a soup or fried like a chip. They have a nutty flavor, sweet like corn and a melting flesh like a parsnip.
6. What's the biggest difference between diners in Quebec and diners in B.C.?
Québécois eat more, drink more, they have minimal allergies and will go out to a restaurant on weekdays, even if it's -30C outside. They are also very open-minded diners, willing to try anything; I mean you could easily sell a pan-seared calf liver, medium rare, to a 15-year-old customer over there.
7. Where do you like to eat in Vancouver?
For lunch, I really like Harvest and Fat Mao Noodles. For dinner, I would choose Bao Bei, Savio Volpe and Kissa Tanto anytime.
8. Biggest Source(s) of Pride?
My two daughters, Aïla and Florence, and my beautiful wife, Dara.
9. Any resolutions for the New Year?
Same as every year: Constant improvement and ultimate focus.
By: North Shore News
GuidedBy is a community builder and part of the Glacier Media news network. This article originally appeared on a Glacier Media publication.
Guided By
Topics